Unlocking Creative Freedom and Flexibility in Remote Work
In today's world, there's a common tendency to stick to established traditions merely due to their familiarity. However, change agents are emerging across various industries, challenging the status quo. One such arena is the video game industry, where the focus has shifted from how we work to where we work. At SOFTGAMES, a staunch advocate of remote work, we've always prioritized our employees' preferences and needs, believing that working from home is integral to this focus.
Recently, Deconstructor of Fun conducted a survey within the gaming industry, spurred by David Sacks, the former executive of PayPal Holdings Inc. and founder of Yammer, which Microsoft Corp. acquired for $1.2 billion in 2012. Sacks asserted that full-time remote work results in only two productive days per week.
The survey produced intriguing results. Respondents, including workers and executives, predominantly leaned towards remote work for various reasons. However, we want to provide our insights into the realm of work from home (WFH) and its multifaceted advantages.
Empowering Creativity with Remote Work
In the gaming industry, creativity reigns supreme, and it thrives when you have the freedom to work without daily commutes in a personally controlled environment. Remote work grants you the ability to set your pace and create a workspace tailored to your preferences without disruptions. Whether it's adjusting the temperature, taking breaks, or personalizing your workspace, remote work offers unmatched flexibility.
Anelia Tarpomanova, Senior Game Artist, highlights the benefits of working from home:
Navigating the Complexities of Modern Life
In a world where digital connectivity is widespread, access to essential services like healthcare and education remains tethered to traditional operating hours. Conventional institutions like doctor's offices, dental clinics, pharmacies, and schools maintain limited hours, often conflicting with a typical in-office workday.
WFH introduces flexibility, allowing solo parents to manage school drop-offs, attend meetings, and address daily tasks while maintaining a productive workday. This translates to reduced commuting times, more focused work hours, and less disruption from personal responsibilities.
Luiz Moura Souza, Senior Level Designer, shares his experience:
From Commune to Commute: A Paradigm Shift
Remote work offers a significant advantage: the freedom to work from a variety of locations, giving employees the power to choose both their indoor and outdoor work environment. This flexibility extends to residing in more cost-effective areas, making the most of their earnings.
At SOFTGAMES, we prioritize equity by extending benefits to all employees worldwide. Diana Adams-Dumee, QA & Release Manager, explains:
Embracing Remote Work: Adaptations and Benefits
Transitioning to work from home can be daunting for companies deeply rooted in traditional office settings. At SOFTGAMES, we've wholeheartedly embraced remote work, adapting our work sharing, communication methods, and daily interactions to this new model.
Jake Branch, Experienced Game Developer, attests to the benefits of working from the home office, saying:
Fostering Team Connections and Engagement
While concerns about remote workers feeling detached from their workplace and teams persist, these issues are addressable. At SOFTGAMES, we employ various tools to keep our employees connected and organize a wide range of team-building activities. Offsite events and in-person meetings fortify team spirit, fostering stronger relationships.
Survey Results: Employee Satisfaction with Remote Work
Our internal survey revealed unanimous satisfaction with remote work, with 88.4% reporting high satisfaction levels.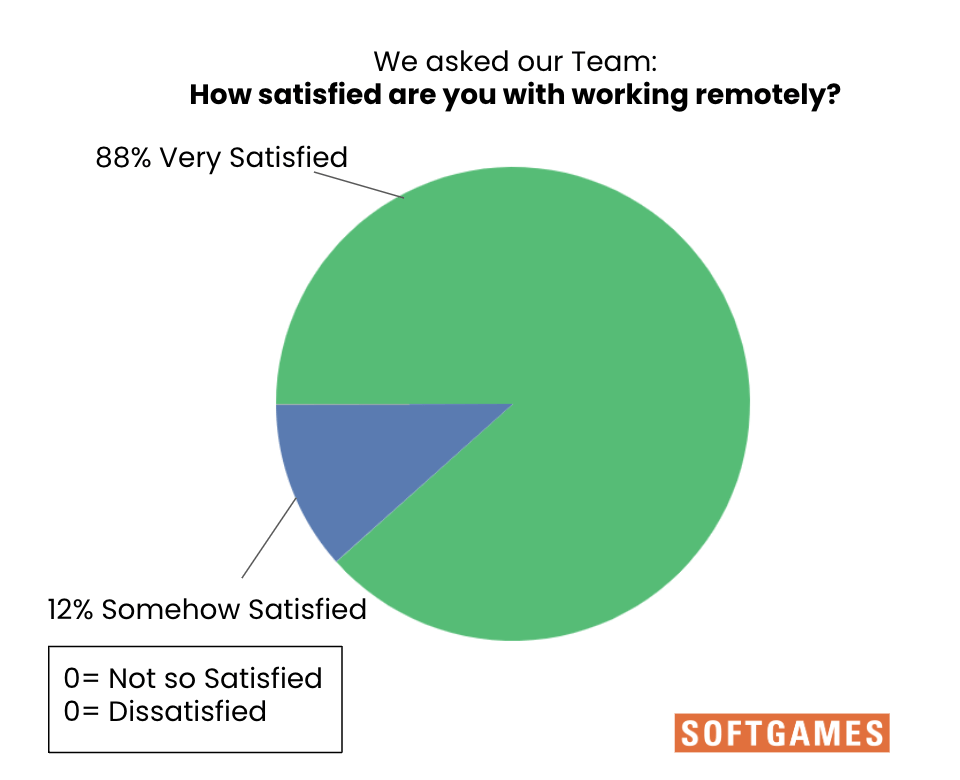 A remarkable 97.1% mentioned a good work/life balance, with over 60% rating it as very good.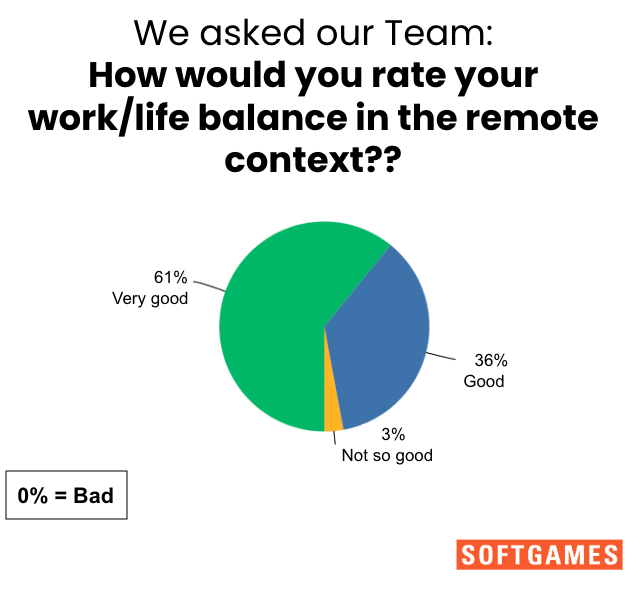 In conclusion, the tech industry shows more reluctance towards telecommuting compared to the gaming sector. Successful remote work requires companies to support their employees and mitigate the negative effects of isolation. At SOFTGAMES, we understand the significance of maintaining strong team connections through a robust feedback culture, team-building events, and in-person meetings.